HydraFacial uses patented technology to cleanse, peel, extract and hydrate with antioxidants and peptides to maximize an instantly gratifying glow.
With ongoing treatments, you'll notice incredibly improved hydration, minimized dark spots, and reduced appearance of fine lines and wrinkles. Bonus boost options are available for your specific skin concerns.
Signature HydraFacial®
60 minutes
Deeply cleanse, extract and hydrate the skin through our super serums filled with antioxidants, peptides
and hyaluronic acid. Plus a relaxing neck and shoulder massage.
Deluxe Hydrafacial®
70 minutes
These invigorating treatments include all of the essentials of the Signature HydraFacial®, including a relaxing neck and shoulder massage, while addressing specific skin concerns through HydraFacial's boosters and protocols. Your skin therapist will choose from the following booster protocols to treat your skins concerns:
Restorative – Add CTGF to improve the appearance of skin tone, texture, and elasticity.
Radiance – Add a Britenol Boost to minimize the appearance of dark spots.
Age-Refinement – Add a DermaBuilder boost to reduce the appearance of fine lines and
wrinkles.
Clarifying – Extended extractions and Red/Blue LED Light Therapy to reduce inflammation
and remove congestion.
Platinum HydraFacial®
90 minutes
The ultimate HydraFacial® experience. Begin the detoxification process with Lymphatic Drainage. Follow with the Signature HydraFacial® to deeply cleanse, extract, and hydrate the skin.  Includes a relaxing neck and shoulder massage.
Address specific skin concerns with a booster chosen for you by your skin therapist. This treatment concludes with LED Light Therapy to further reduce the visible signs of aging.
HydraFacial® Syndeo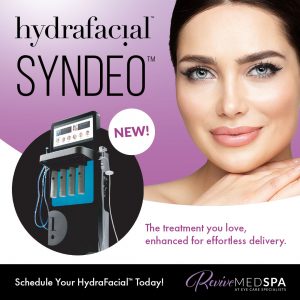 New service!  HydraFacial® Syndeo steps things up a notch by allowing us to customize your treatment for any skin concerns with LED Light Therapy, Lymphatic Drainage, and NEW Eye and Lip Perks for even better results!
LightStim LED Light Therapy treats wrinkles, acne, inflammation, and redness for more vibrant, tighter, firmer, youthful skin – plus, it's incredibly soothing and relaxing.
NEW Lip Perk naturally plumps lips and stimulates circulation to enhance lip volume.  Also helps increase hydration while gently cleansing, exfoliating and infusing antioxidant protection.
NEW Eye Perk reduces puffiness and brightens the eye area while minimizing dark circles.  Soothes and hydrates the delicate skin around the eyes while cleansing, gently exfoliating, and  providing antioxidant protection to brighten, tone, firm, and infuse hydration to this delicate area.
Add On Services:
Shiatsu Eyelid Lift – 10 minutes
Scalp Massage – 15 minutes
Hand / Foot massage – 30 minutes
Aromatherapy
Call (570) 718-4800, or schedule your Hydrafacial online today!