This incredible, non-invasive facial rejuvenation treatment is designed for one of the most frustrating signs of early aging – sagging chin, neck and jowls. MyEllevate® refines, restores, and smooths the underlying muscles and glands, leaving you with instant results.
This in-office procedure, performed by Dr. Richard Roth, is used to define and tighten the upper neck, chin and jawline with results that are natural and long lasting….in many cases, well over five years!
Meet the Zoom Lift

The buzziest new procedure is MyEllevate, aka a percutaneous suture suspension — meaning surgical sutures are inserted with a lighted needle underneath the skin and across the neck.

Elle Magazine
How does MyEllevate® work?
MyEllevate® is a popular treatment for patients looking for a minimally invasive procedure with little downtime.  MyEllevate® is performed by Dr. Roth using local anesthesia.  Using the MyEllevate® ICLED® light-guided suture system, he expertly places a suture support system without incisions that immediately elevates underlying structures, creating a defined, sleek jaw and neckline and restoring a youthful appearance.


How long does the treatment take?
Dr. Roth performs this procedure right here at Revive MedSpa. It typically takes about an hour to perform.
What is the recovery time?
Results can be seen immediately.  There is typically very little, if any, bruising and swelling.  Most patients are able to resume normal activities within days.
Who can perform MyEllevate®?
Plastic surgeons, facial plastic surgeons, cosmetic surgeons and surgeons who are trained to perform the procedure. Dr. Roth is a Dual Board Certified Ophthalmologist and Ophthalmic Plastic and Reconstructive Surgeon and is also Fellowship-Trained in Plastic, Reconstructive and Orbital Surgery. Dr. Roth has been certified and trained as a MyEllevate® surgeon.
Can the procedure by customized for me?
MyEllevate®can be customized for each patient, by using it in conjunction with other procedures we offer, such as Precision Tx™ SmartLipo or skin removal to provide the results you are looking for.
If you're seeking to rejuvenate your look and feel more youthful without having invasive surgery, MyEllevate® may be a great choice.
Before & After Photos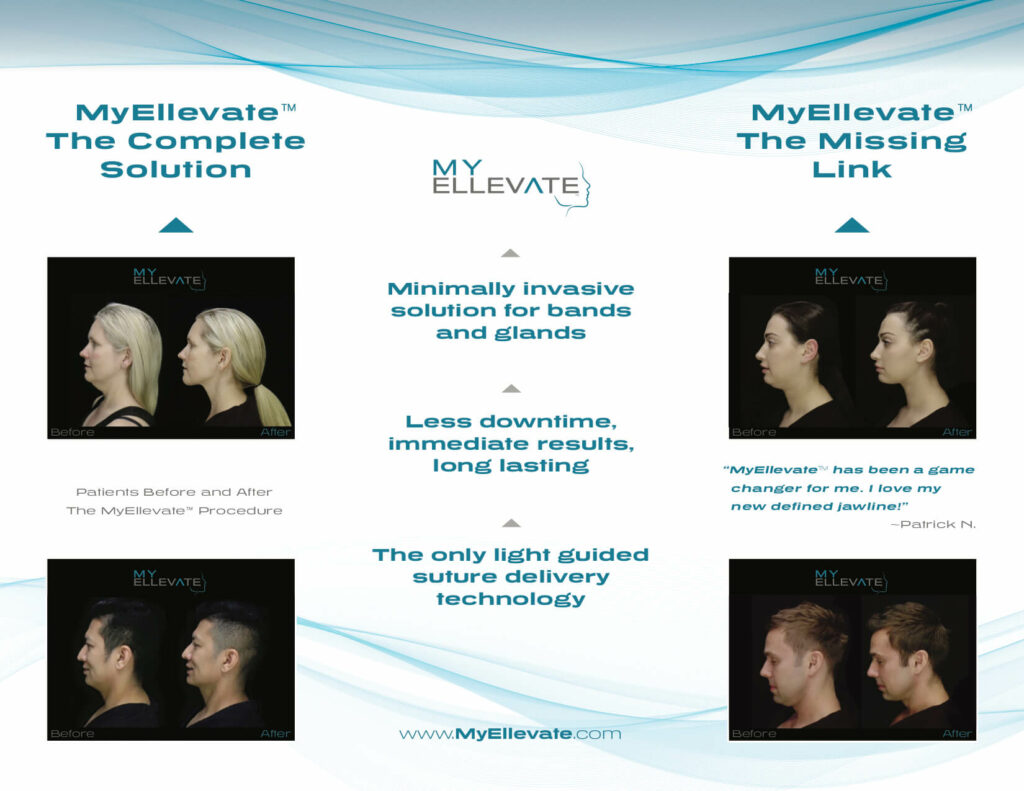 Call us at (570) 664-7171 or request a consultation to learn more and find out if MyEllevate® is right for you!