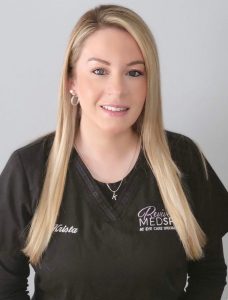 Krista Malloy, Licensed Medical Aesthetician, specializes in a wide variety of treatments and services at Revive MedSpa.  Her areas of expertise include personalized skin care, facials, dermaplaning, Microneedling, face and body waxing, HydraFacials, lymphatic drainage, head, neck and shoulder massage, shiatsu eyelid lift, and LED light therapy.
Krista enjoys getting to know our clients on a personal level in order to customize treatment plans that will meet each clients' unique needs and goals.  Her goals include ensuring that all clients feel refreshed and rejuvenated after their treatments and are 100% client satisfied with their service.  Krista happily makes herself available to our clients pre- and post-treatment for any questions or concerns they may have.
"I have always been been interested in skincare, so working as an aesthetician is incredibly rewarding.  I love educating clients about the importance of at-home skincare along with professional monthly facials.  I enjoy building relationships and seeing my clients come back to see me, trusting me and getting results they love."
Call (570) 664-7171 to schedule an appointment or complimentary consultation with Krista.
Krista's Specialties Include:
Dermaplaning
Face and Body Waxing
Eyelash Extensions
Lymphatic Drainage
Head, neck and shoulder massage
Shiatsu Eyelid Lift
LED Light Therapy